Schedule Change: Volleyball Parent's Night will be Thursday Oct 20th. Reminder: The JV/V Football game is THURSDAY Oct 13th. This is Varsity Parents' Night.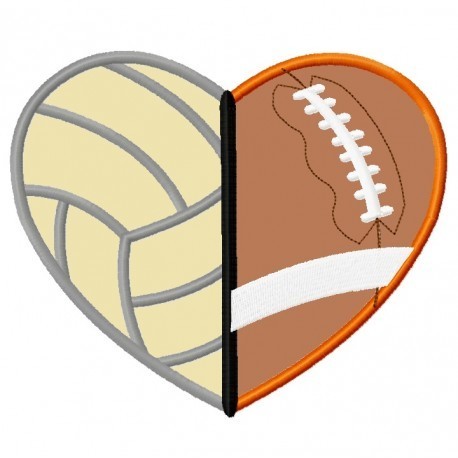 Panther Families, here is our most up to date Breakfast & Lunch Menus for the month of October. We had to menu changes so we are sending a new one and also posting to our school's website as well.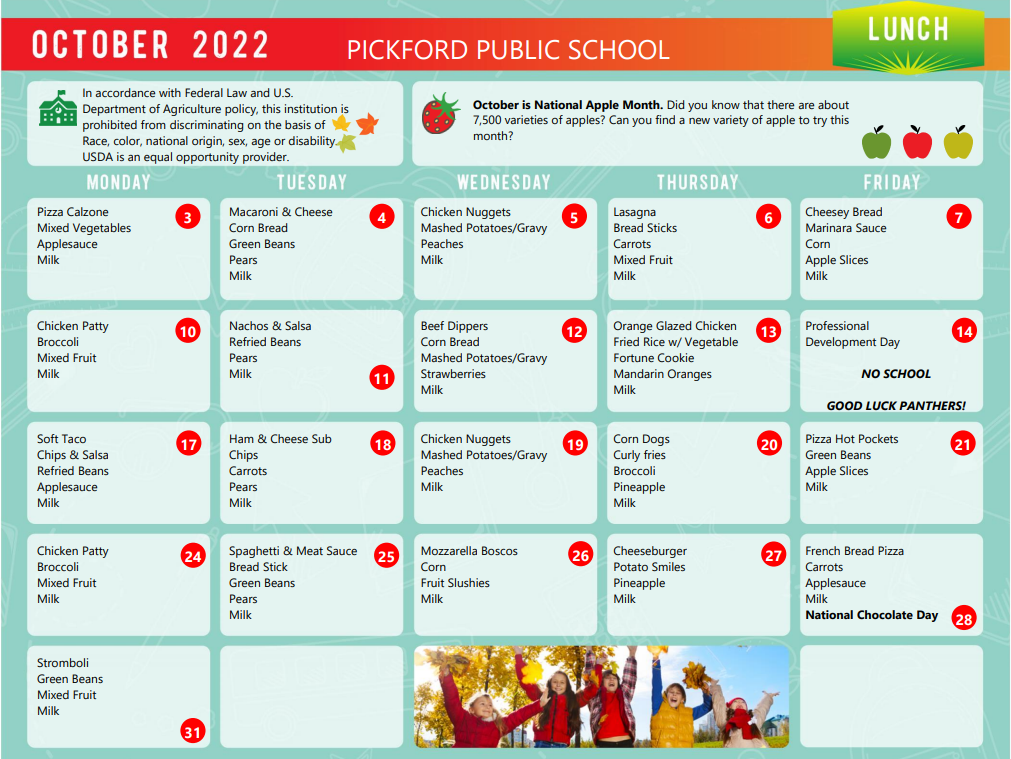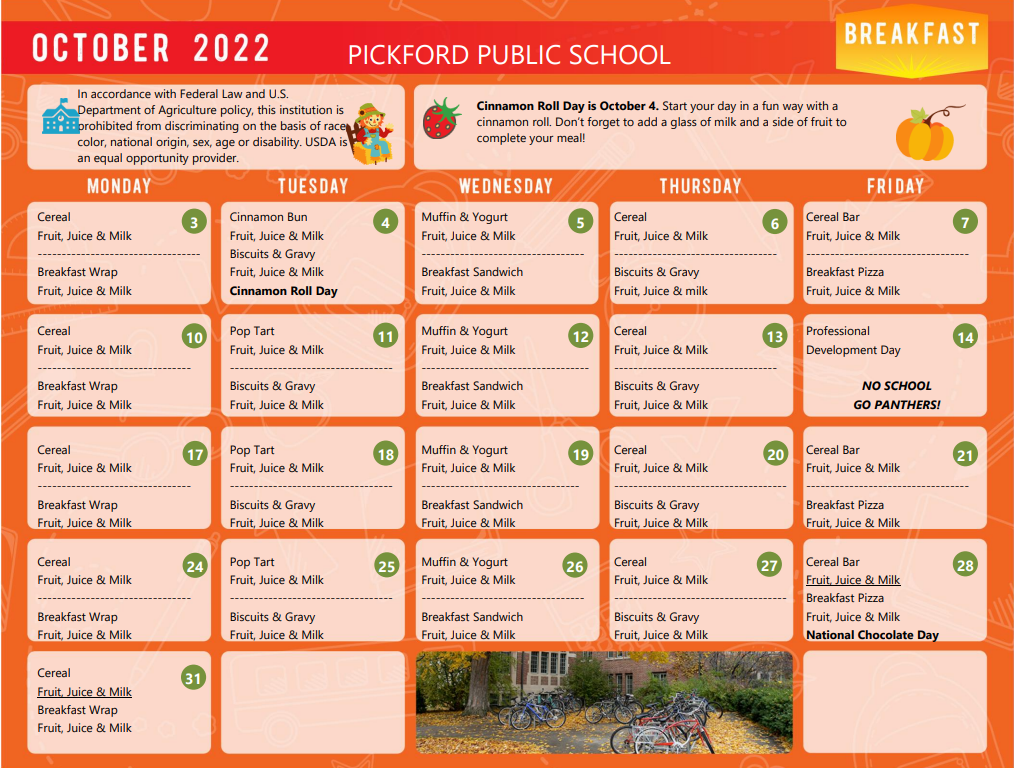 Schedule Change: JV/V football game will be Thursday, Oct. 13th (moved from Friday) This is Varsity Parent's Night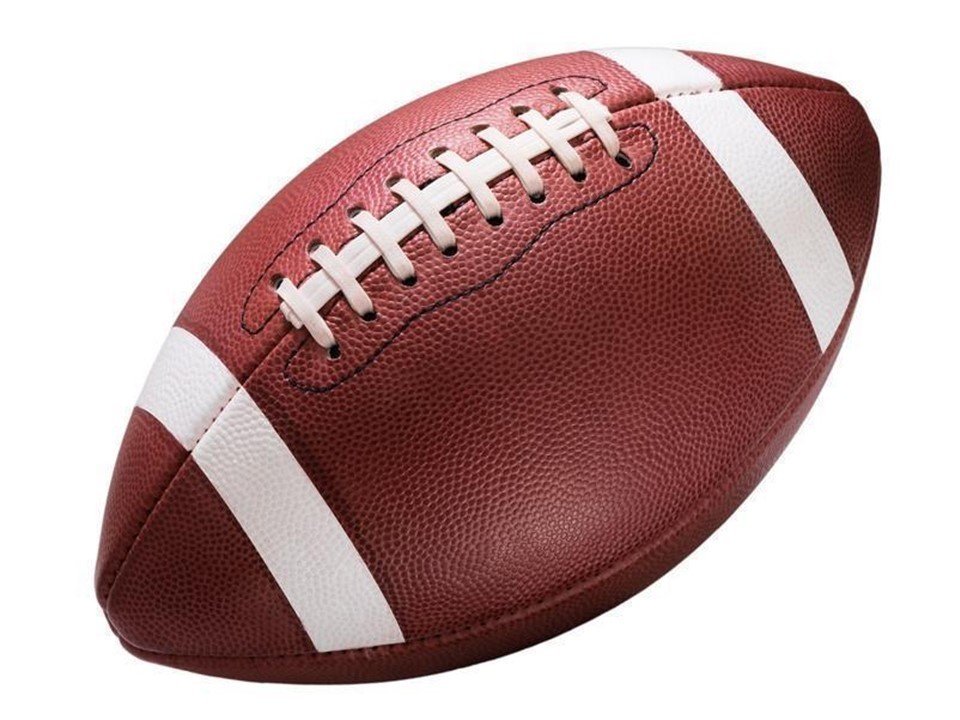 In anticipation of the season finally FLAG FOOTBALL Playoffs, we have posted the 2022 Bracket. Games ONE @ Pickford at 9:00 am Game TWO @ Cedarville at 9:00 am # Remaining games @ Pickford # There will be 15 mins between games. # Concessions will be available throughout the day.

The JH Volleyball Conference will begin at 9 am tomorrow, Saturday, October 1st.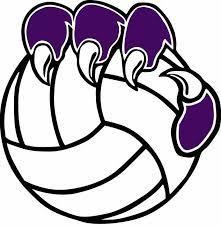 The Annual PTO Fall Fundraiser kicks off today for our Elementary! We had Mr. Don come in to show the kids everything about the fundraiser. They are super excited! Your kiddo(s) will be bringing home a packet this week. Our Weekly Elementary Newsletter is below as well :) Happy Thursday!!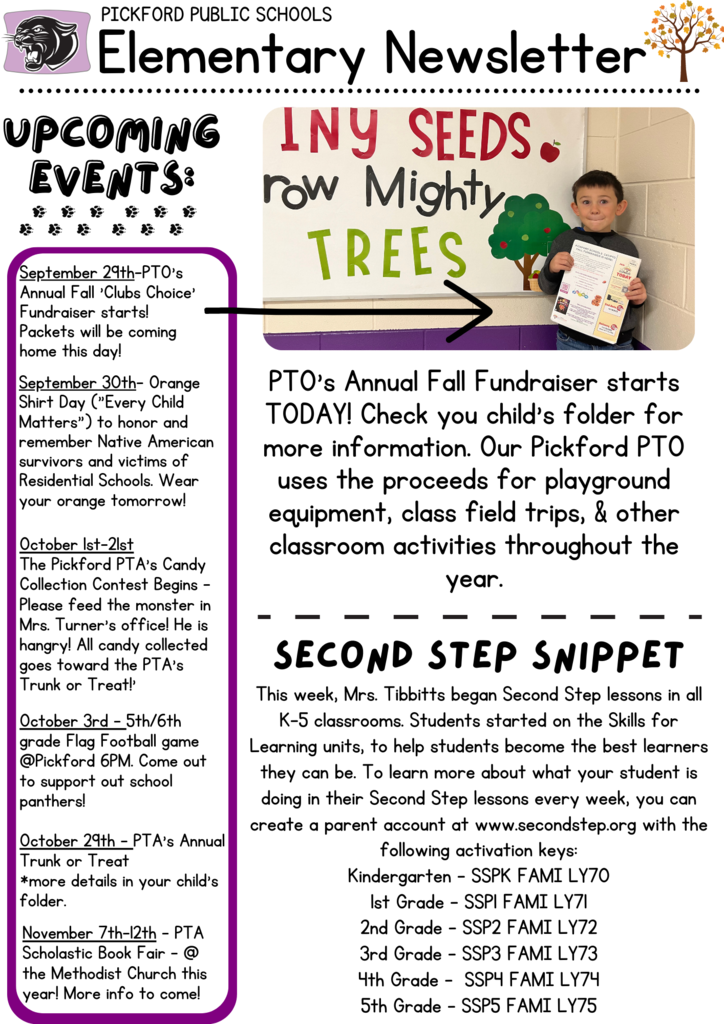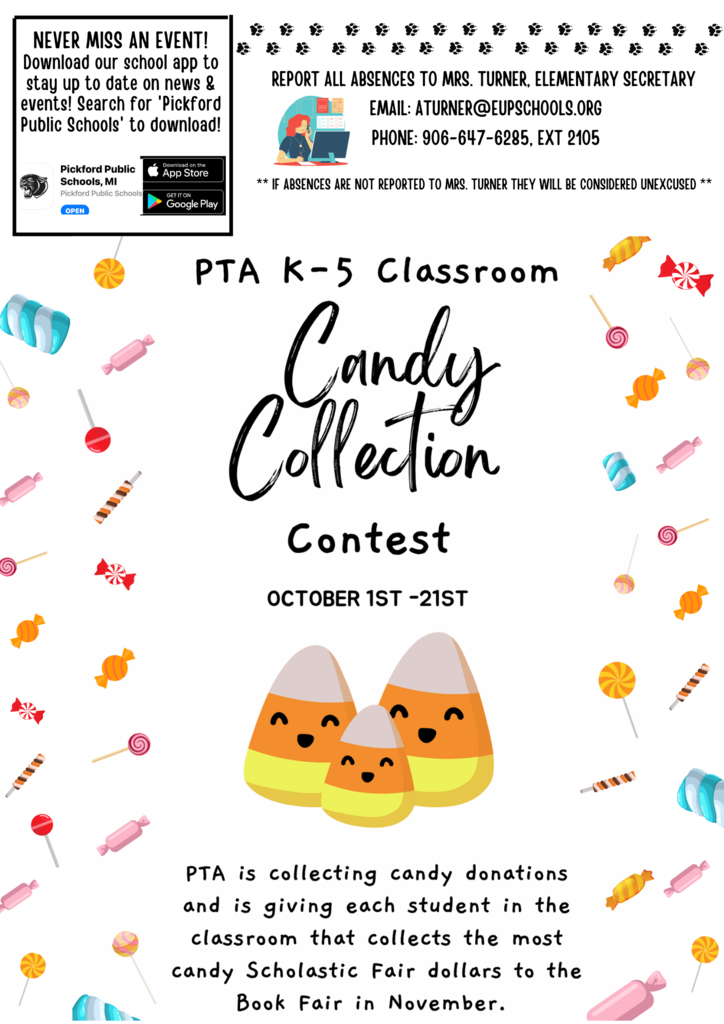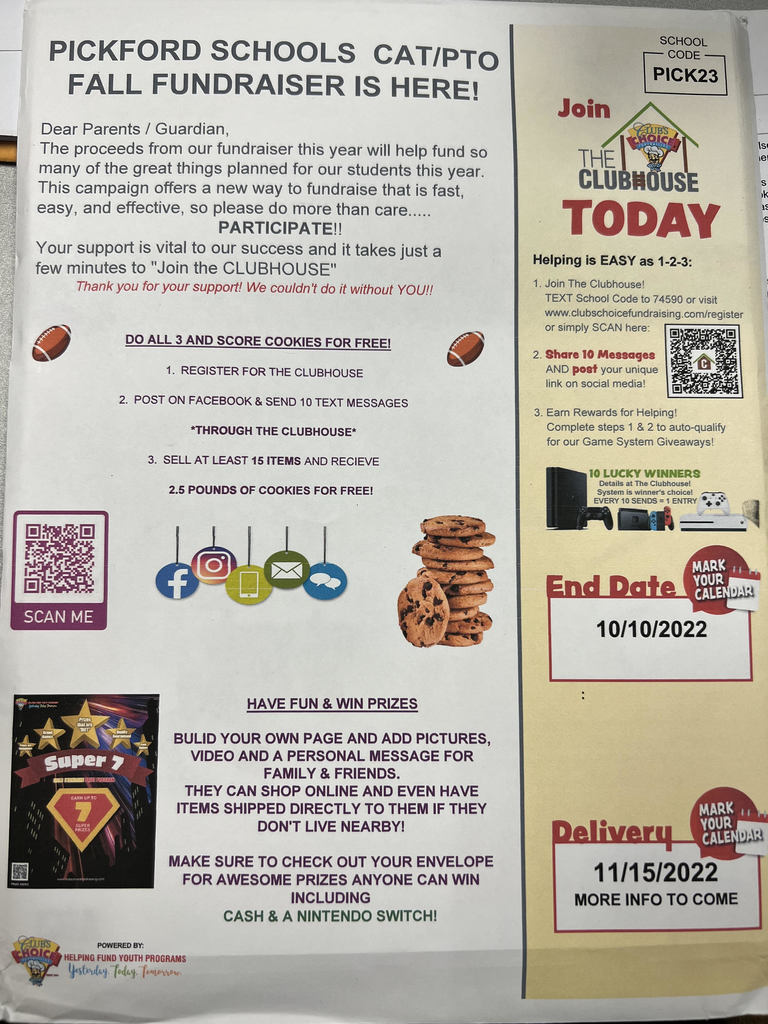 Menu change for Friday, Chicken Patty instead of Alfredo.

5th/6th Flag Football Game Schedule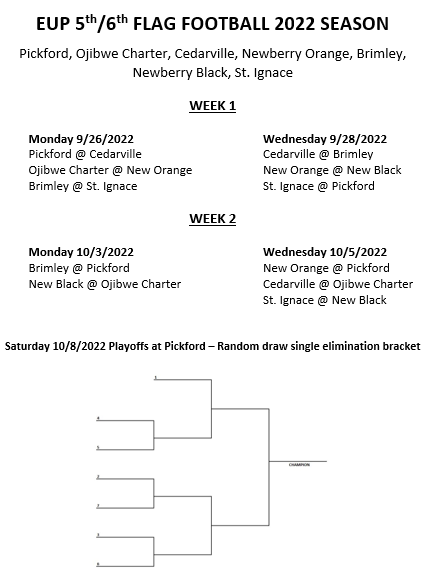 Elementary Newsletter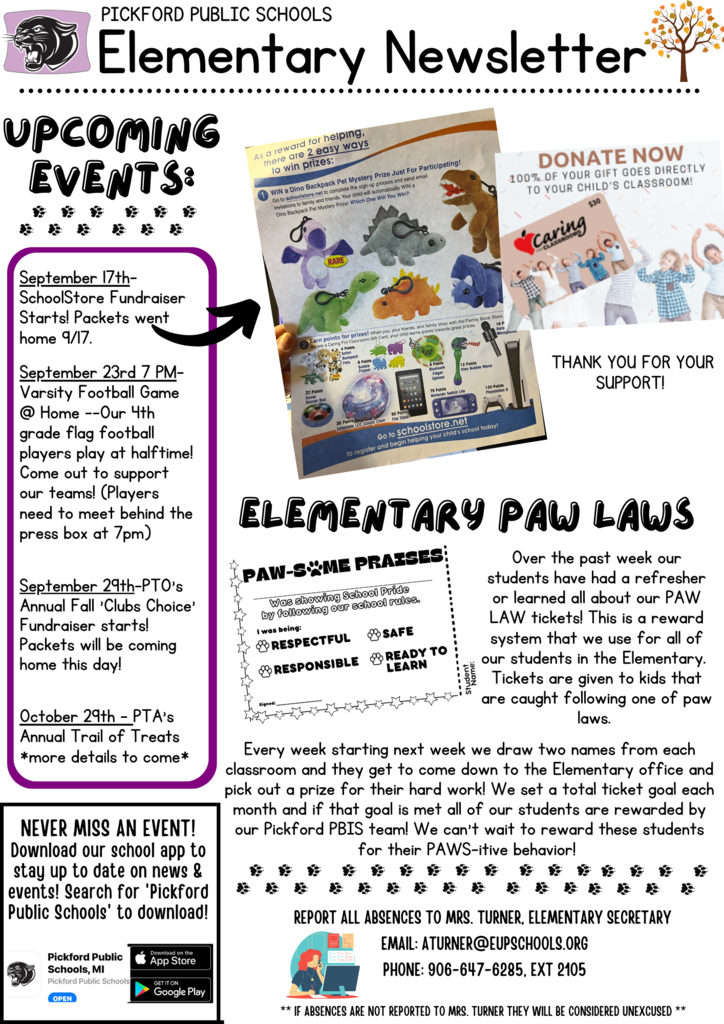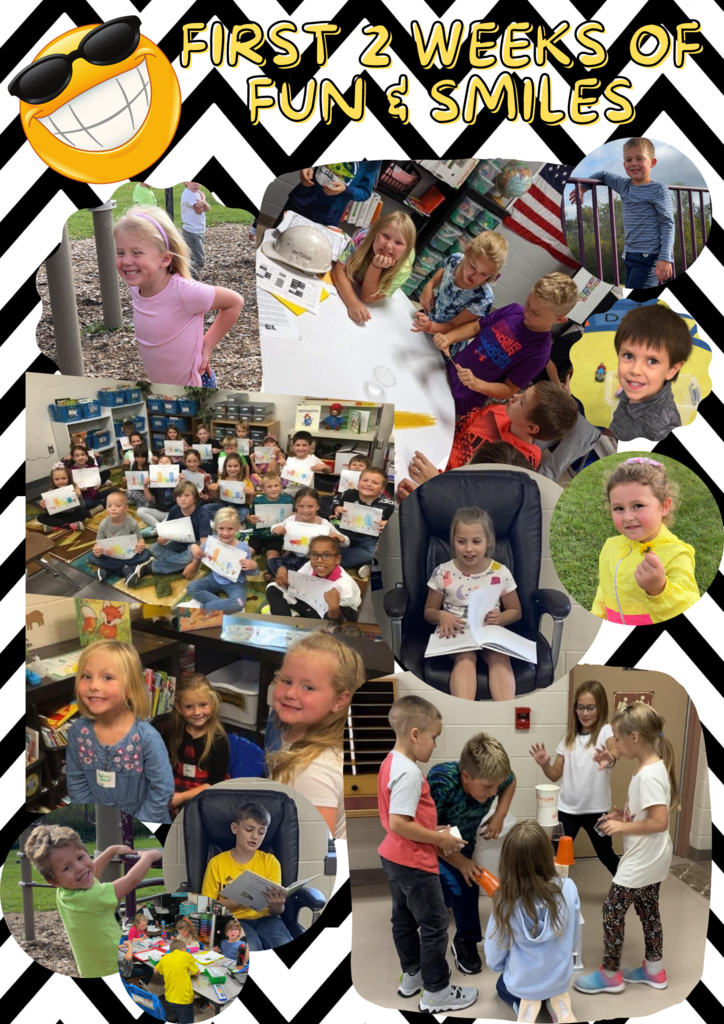 Our Elementary STEM classes are looking for some materials to use for the year! The following is a list of materials that Ms. Barr & her students will be using throughout the year. If you happen to have any on hand or would like to donate, any contribution, no matter how small, is appreciated. We'll find a use for anything we get. Donations can be brought to the Elementary Office. Thank you!!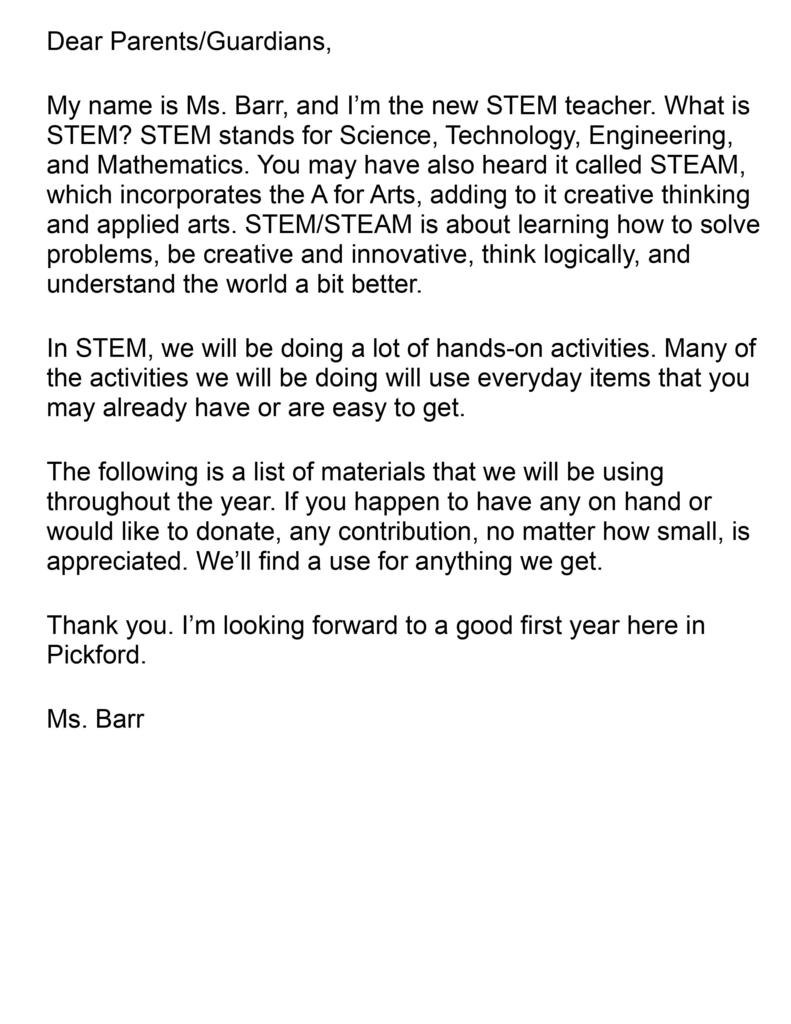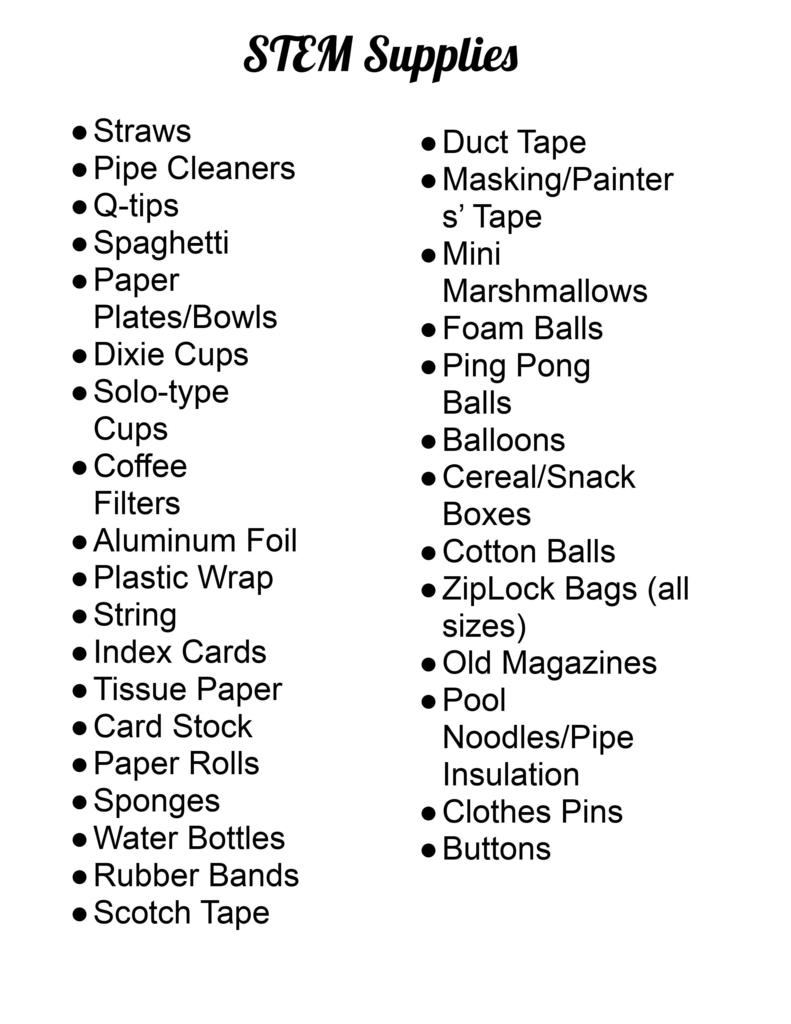 The Elementary's SchoolStore Fundraiser starts tomorrow! Make sure to look in your child's folder for more information coming home this week.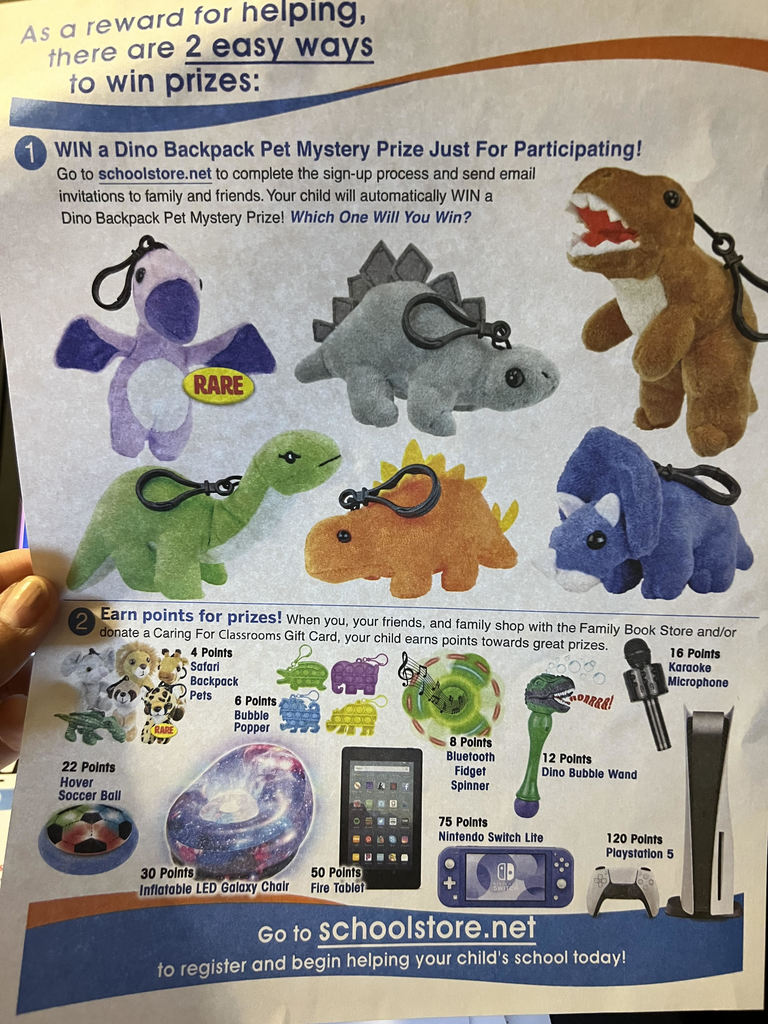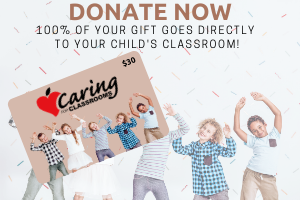 It is picture day tomorrow! Bring your smiles!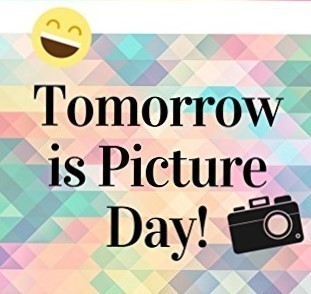 5th & 6th grade flag football practice will be after school & end at 5pm

"I would like to thank the gentleman who saw that I was purchasing school supplies at Walmart and opened his wallet and handed me $20 to buy something for my class. Instead of cracking open our math books, the second graders graphed and ate Mnm's. We appreciate his generosity and kindness." 😊💜 Mrs. Lytle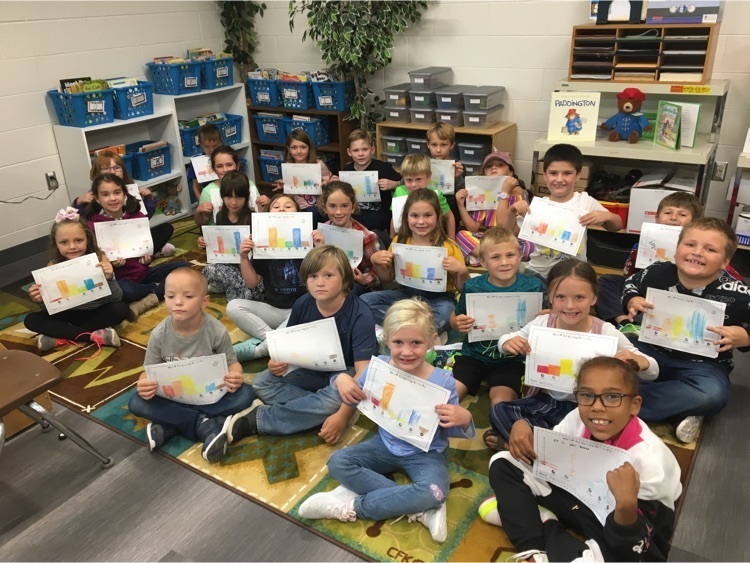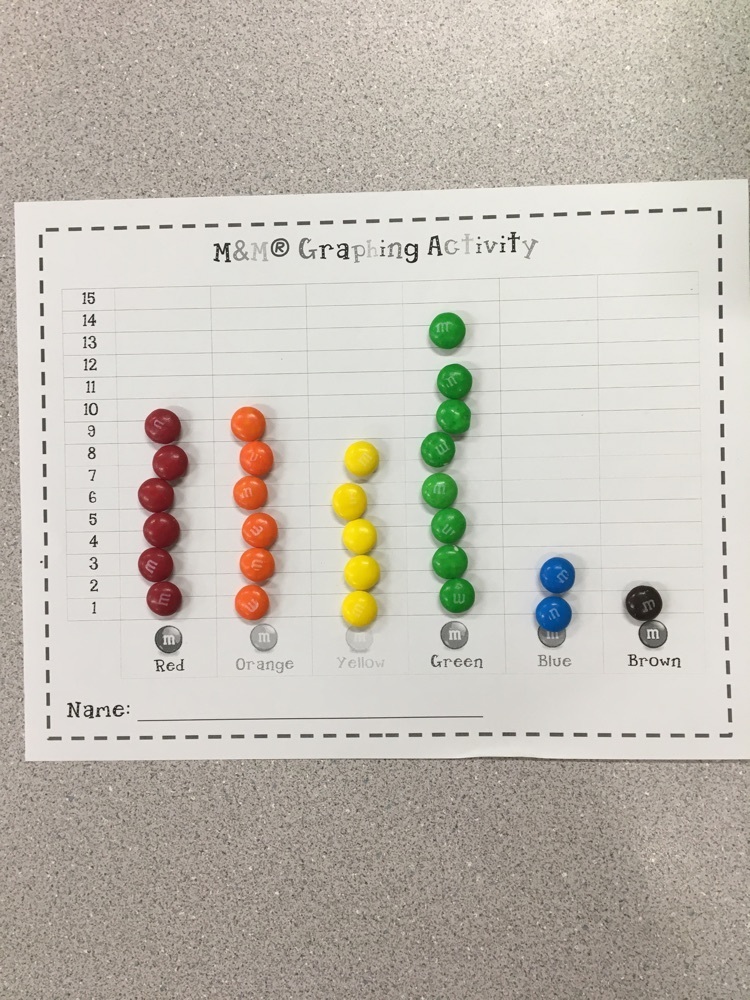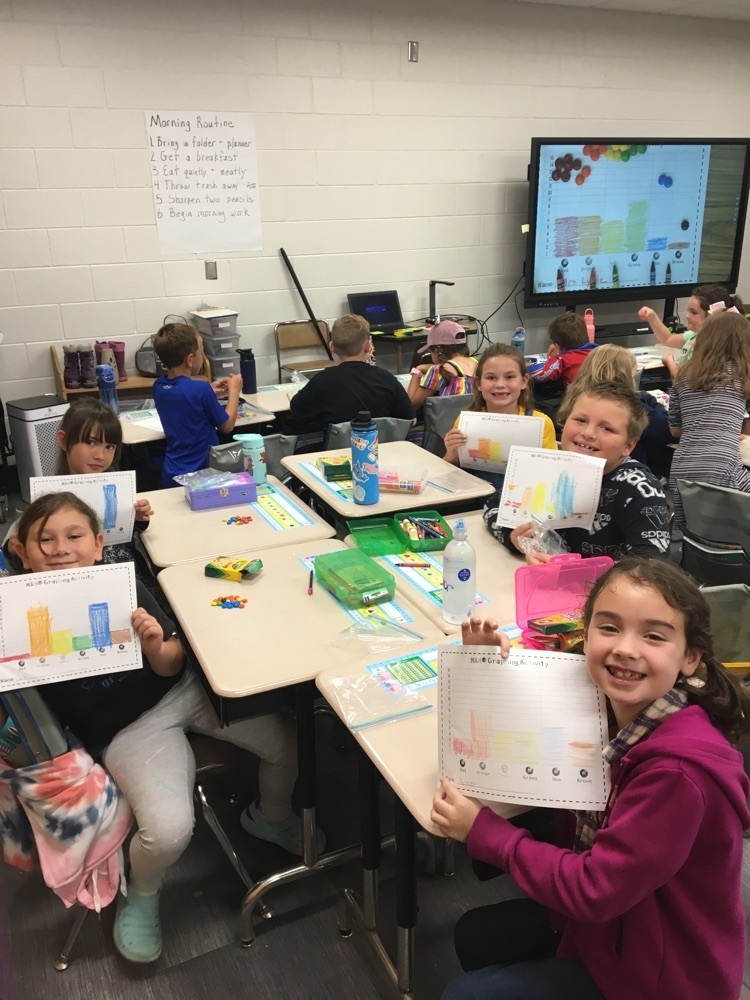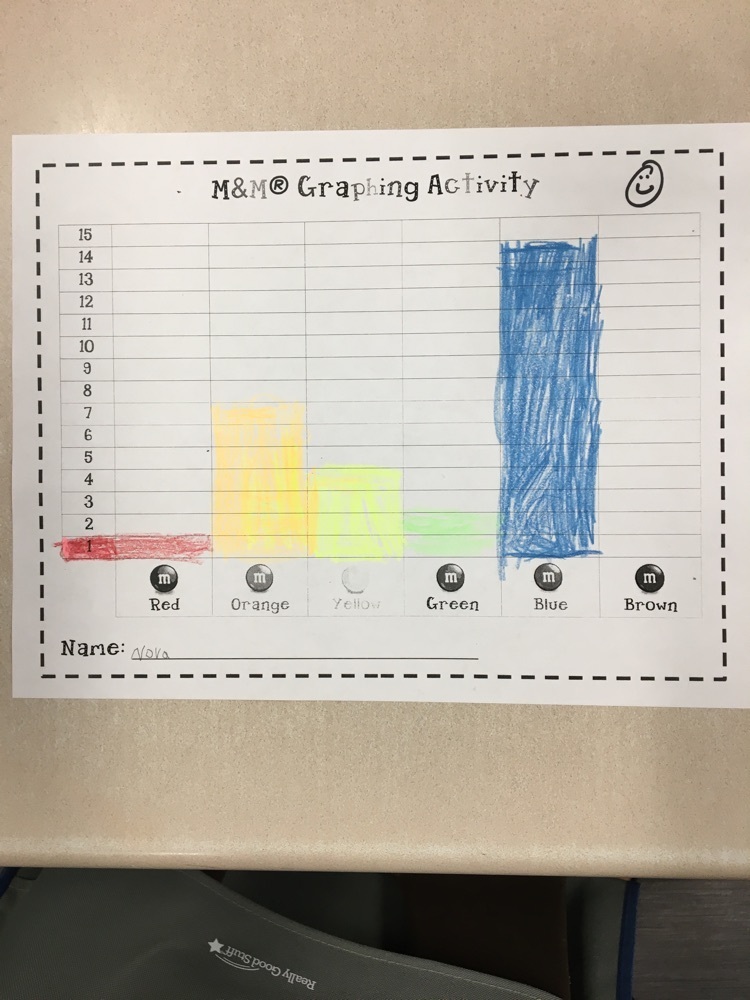 Elementary parents please have your child(ren) wear/bring their boots tomorrow. Our playground is muddier than normal due to construction & the forecast is calling for rain Monday & Tuesday. We do not want their fresh kicks getting dirty the first day 🥾🌧 We can't wait to welcome everyone tomorrow! 🤩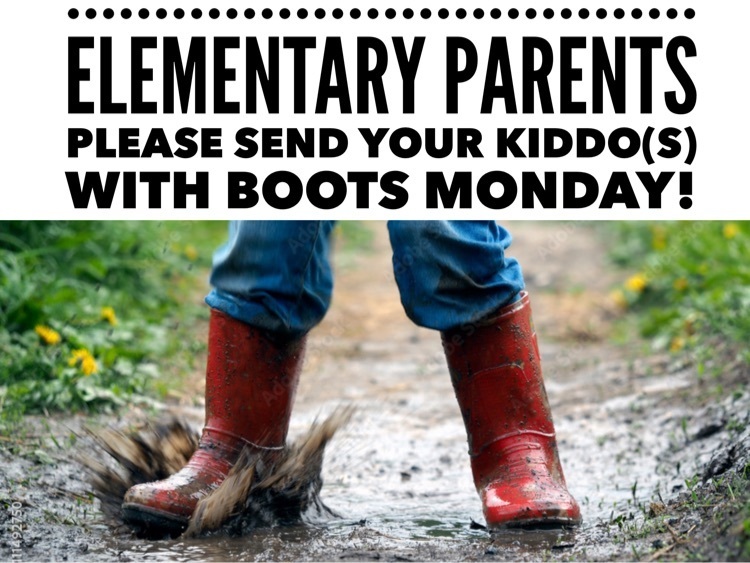 *Optional* First Day Drop Off for Kindergarten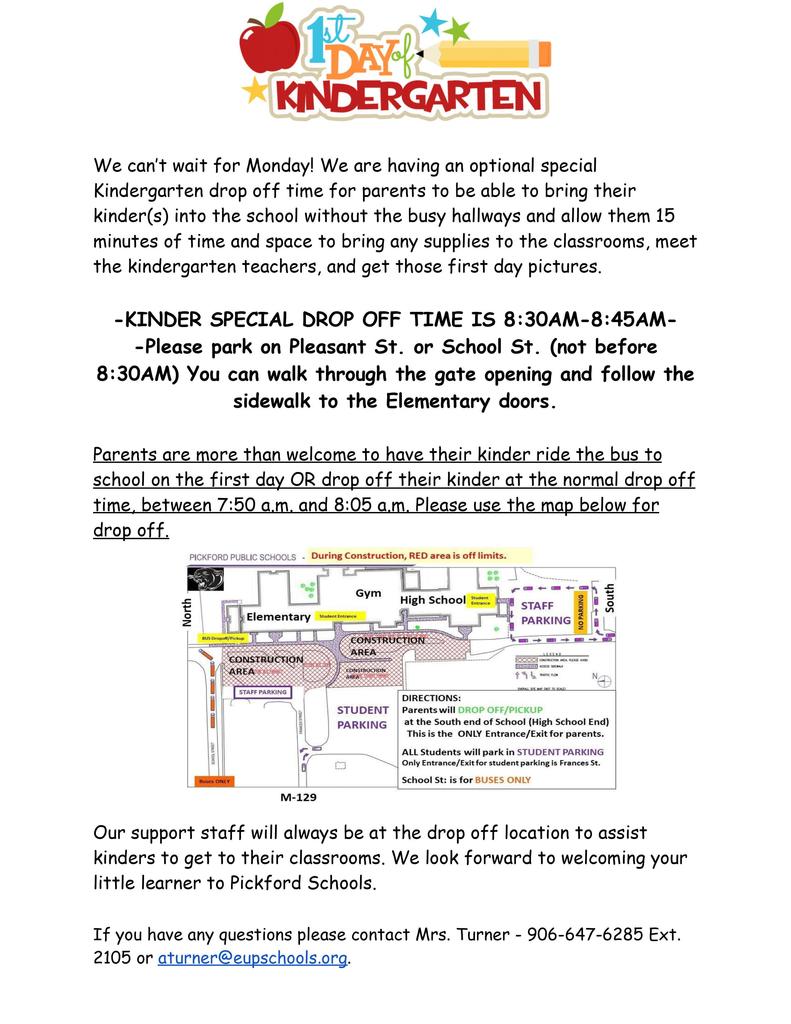 Due To disruptions to the construction schedule, we have an alternate drop off plan. Regular drop off and bus loops will be ready later in the week. Parents: please follow the little pink car.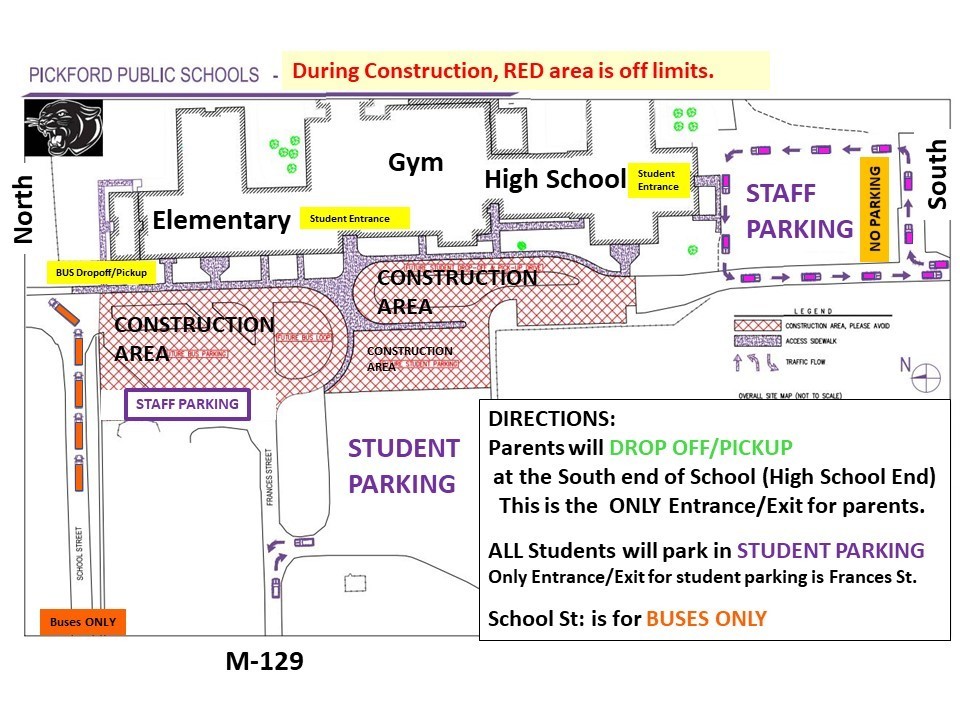 ​Middle/High School Students, We are excited to start the 2022-23 school year on Monday, Sept 12th. Please see the attached letter with lots of information to start your school year. See you Monday!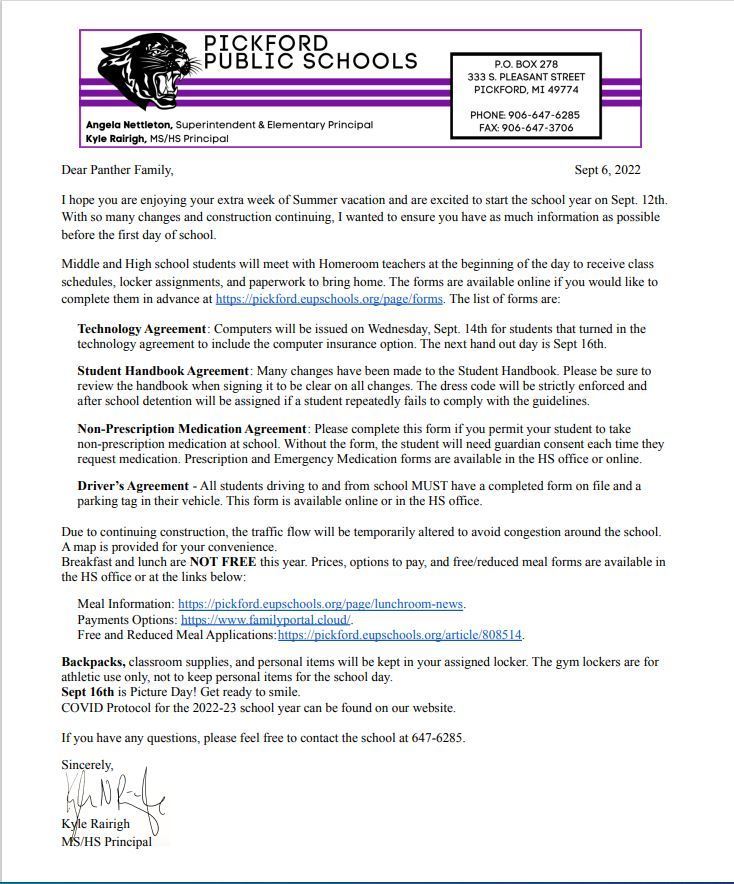 Sault Area Career Center Students Sault Area CTE Class starts WEDNESDAY, Sept 7th @ 9 am ALL students will meet in Sault HS Cafeteria PRIOR to going to classes. Due to ongoing construction Bus: Students be at the Pickford Methodist Church at 8:05 am. Transportation from home to school is provided. Parents will receive a all Friday with pickup times. Students self transporting must notify the Pickford HS Office and complete driving forms for Pickford HS and Sault HS. ALL forms are available at Pickford HS Office. Enter at the South end of the school near Mr. Johnson's Rm.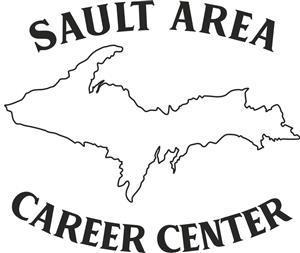 Pickford Schools is looking for Playground Supervisor. Details are in the image below. Position begins September 12th.