ALL PROGRAMS ARE MADE POSSIBLE WITH ASSISTANCE FROM THE SAULT TRIBE OF CHIPPEWA INDIANS WATER ACCESS INITIATIVE AND THE COMMUNITY TRANSFORMATION GRANT and THE SCHOOL HEALTH TEAM.
Walk to School Day
With nearly 100% student participation involved students, the energizing, morning walk has been enjoyed by staff and students. Upon return from Glen Gough Memorial Park, students are served a nutritious hot breakfast prepared by our incredible lunch room staff!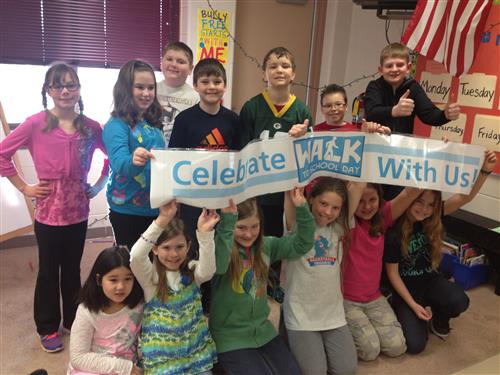 Walking Program
Each morning Pickford students have the opportunity to participate in our walking program. Prior to the start of school students are directed to the gymnasium, then proceed to walk laps.
Breakfast in the Classroom
This program is for K-5 students and provides all students with a healthy start to their morning.
Step Up For Health
Staff were placed into walking teams competing to find the team that can take the most "steps".
AND THE WINNERS ARE:
Overall Team Winner:
Team IV: Heather Salmi, Caitlin Mortinsen, Jan Fehner, Hillary McIntyre, Mary Lindberg, Marci Guild, Jan Smith, Carol Arbic, Lori Nixon, Pat Feldhake and Brenda Stain! Good work ladies!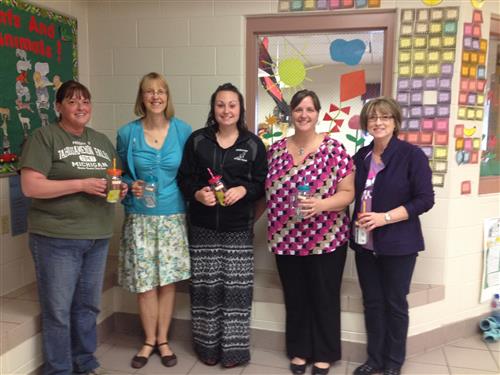 Overall Individual Team Winners:
Team I Tonya Brace
Team II Rhonda Coullard
Team III Jessica Kietzman
Team IV Pat Feldhake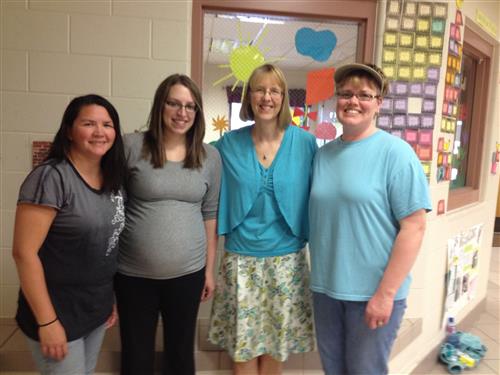 GRAND CHAMPION STEPPER: PAT FELDHAKE with 467,306 STEPS!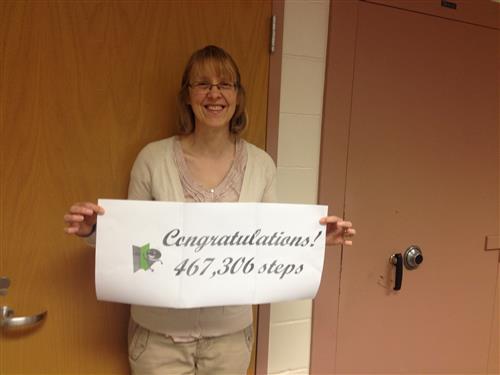 GREAT JOB TO ALL WHO PARTICIPATED!
Staff also held Salad Fridays and a "Healthy Dish Challenge" where all staff have been encouraged to bring a healthy dish for a pot luck lunch and the recipe to share. Carol Arbic was the winner of the "BEST HEALTHY DISH" title with her Strawberry - Pineapple Chicken Bites. You can find the recipe HERE , along with some of the other delicious recipes.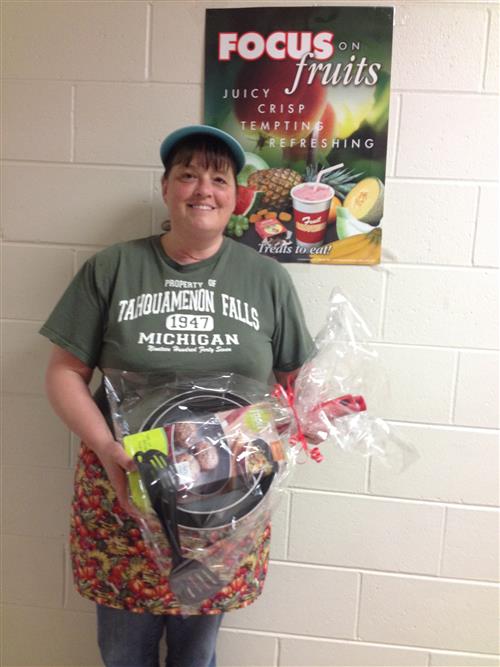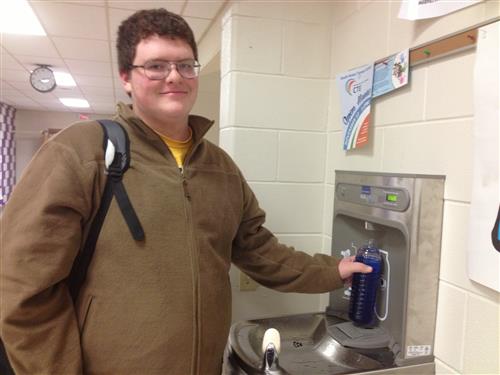 Students enjoy the water bottle filling stations. These were made possible with assistance from the Sault Tribe of Chippewa Indians Water Access Initiative.
As part of the School Health Team Plan for Pickford Public Schools and with help from the Community Transformation Grant, exercise balls were purchased for use in the elementary classroom. The Community Transformation Grant has been facilitated through the Sault Ste. Marie Tribe of Chippewa Indians.
Some of the rewards for using exercise balls in the classroom are simply this: happy, focused, and productive kids. Research suggests children are hardwired to move. Sitting on the exercise balls increases blood circulation up and down the spinal column and to the brain. This increased circulation in turn oxygenates the blood the brain receives. Sitting on an exercise ball movement increases focus and concentration.
Another reward for advocating for the use of exercise balls and active seating alternatives in schools and workplaces is a move towards a "motion promotion," which simply means integrating more movement throughout everyone's day. It has been suggested that we need an environment that allows more movement throughout our day combined with intermittent rest as necessary to "recharge our batteries." We can't expect kids or adults to be sedentary most of the day and then go out after school or work and get enough physical activity to be their healthiest. We all need a variety of postures and movements throughout our day to feel our best.
In the picture below, the Pickford High School Leadership class takes charge of inflating more than 60 purchased balls in 2 different sizes.