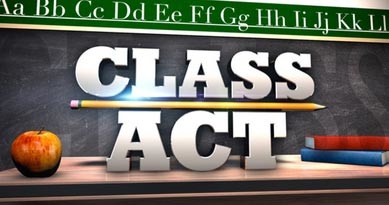 PTO now operates under the name PTO-CAT (Class Act Trust). Class Act stands for classroom and activities. The focus of the group is to provide funds requested by teachers for classroom materials and funds requested by teachers and administration for school-organized activities.
All parents, school personnel, and other interested community members are welcome to participate in the group. Meeting dates and times are posted on the school calendar.
The officers for this school year are as follows: Laura Tinker, president; Shelby Hagen, vice-president; Lori Nixon, treasurer; Linda Crawford, secretary/assistant treasurer; and Michele Green, communications/fundraiser coordinator.
PLEASE JOIN US!
FROM THE RECENT SCHOLASTIC BOOK FAIR, CAT-PTO PROVIDED BOOKS WORTH $1092.00 FOR TEACHERS, STAFF, AND THE LIBRARY. THANK YOU FOR YOUR SUPPORT!
In addition to the classroom and library books supplied by the book sales, PTO-CAT has provided the following classroom/activities support in the 2016-2017 school year:
Social Studies class materials (Mr. Johnson) 240.00
Sledding for incentives 500.00
BPA Nationals (A. Harp) 25.00
FCCLA Nationals 100.00
Honors Banquet 480.00
Library book ends 112.49
Prom music 290.00
Bounce house (elementary picnic) 100.00
Total $1,847.49
During the 2016-2017 school year PTO-CAT provided $3,056.19 worth of books for the classrooms and the library.
PTO-CAT held the Believe Fundraiser in the fall to raise the money to fill the requests. PTO-CAT will also continue to sponsor the Scholastic Book Fairs and provide books to the school library and to teachers for themselves and for their classroom libraries.
During the 2015-2016 school year, $2,544.09 worth of books were provided for teachers, classrooms, and the library.
Also during the 2015-2016 school year, the following requests were filled:
Music curriculum – $1,270.00

Classroom materials for new teachers at Pickford – $376.77

Robotics team – $600.00

Middle School Quiz Bowl – $280.00

Middle School calculators – $108.25

Elementary Reading Month - books from Scholastic – $200.00

History Day registration – $85.00

Prom DJ – $400.00

Kindergarten Graduation caps/gowns – $50.00

6th Grade Camp – $507.00

Scholarship Banquet –$410.00

Pre-school rug – $50.01

FCCLA National Meeting – $250.00
Pickford Pubic School wishes to extend a HUGE thank you to our hard working PTO-CAT volunteers for the VERY generous donation that have allowed us to enhance the limited funding that we have available for the following programs:
Elementary Art

High School Art

Industrial Arts (Woodshop/Technology)

Physical Education
Our PTO has also donated to provide...
New Teacher Grants
New Playground Equipment
Free books for elementary/middle school classrooms and library from the Scholastic Book Fair
We appreciate the support and fundraising efforts of the CAT members that allow us to provide these "extras" for our staff and students.